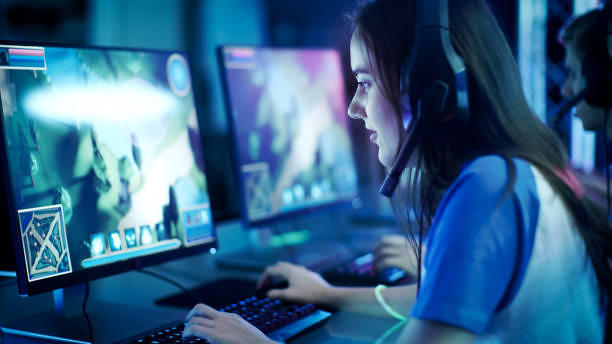 The pandemic paved the way for more people to become gaming enthusiasts. Let's be honest—there isn't much in the way of entertainment when we're forced to stay home, and becoming a gamer has a lot of surprising benefits, like becoming more strategic, improved hand-eye coordination, and others like visual memory, focus, and creativity. For some experts, the benefits of gaming outweigh its potential risks.
So if you're thinking of getting into new games this year, or want to start gaming, then start building a gaming laptop, then set up an ergonomic station and strap in for the ride of your life.
Cyberpunk 2077
If you love a video game with rich lore, back story, and world-building, Cyberpunk 2077 may be for you. The story is a bleak take on the world's domestic and foreign corporations and other societal institutions like healthcare, military tech, drugs, and others.
Users take on the character of V, a mercenary who finds himself caught in a job that will have enduring consequences for the game's story. It's an open-world role-playing game (RPG) that will require you to hack and shoot your way out of conflict and combine with excellent visuals and atmospheric sounds. It will surely be a treat for those who love a good story.
Adventures of Pip
If you are a child of the '90s, then you must love the iconic side-scrolling games from your childhood. Reminiscent of the classic Super Mario game, Adventures of Pip is a fun action-platforming game that allows users to control a pixel-based hero in traditional 1-bit and 16-bit forms to unlock new levels by fighting various bosses, villains, and goons. Pip must evolve through various iterations to defeat his enemies, and these different versions of Pip have specific benefits and advantages.
As users devolve and evolve, they will need to run, shove, float, wall jump, break some blacks, collect, and fight different henchmen until they reach the final boss, the Evil Queen DeRezia. Pip's ultimate purpose is to rescue Princess Adeline and remove her from the possession and clutches of the evil villainess.
Alien: Isolation
For film buffs, Ridley Scott's Alien is perhaps one of the best sci-fi films ever created. While previous Alien-based video games often looked to director James Cameron's more action-packed iteration of the story, Alien: Isolation looks to Ridley Scott's original 1979 version, focuses more on deceit, subterfuge, and evasion.
So instead of too much running and gunning, Alien: Isolation encourages players to focus more on how to survive a horrific world and how to dodge the alien villains instead of fighting them head-on. Players will have to use every tool in their arsenal and everything else in their environment to ensure their survival. If you love dark and smart games that cause you to think, Alien: Isolation might be for you.
Bejeweled 3
If you're the type of gamer who prefers cute and simple brain games you can play on your handheld device, Bejeweled 3 is worth waiting for and trying. Compared to its predecessors, this new game has more features and enhancements, like new modes with more objectives and goals.
If you found gem-swapping to be a bit dull, Bejeweled 3 will have more features and goals, like digging for gold, rescuing some butterflies, breaking some literal ice, and even flexing your poker skills by concealing a hand. While it's not necessarily a complete remake or overhaul of the game, it has enough new features to separate itself from its prequel games.
Deathsmiles
For gamers who love the aesthetics of goth, anime, and beautiful details, Deathsmiles might be worth checking out. Players will take on the characters of five lolitas who are tasked to defend their land from an invasion by demons. These characters will use destructive and intense firepower that can destroy the wielder's enemies.
While the premise might be less complex than others—it's all about five characters defending their land from invasion, after all—it's made more special by the goth-rock-inspired musical score and intrinsic details. The game might lean more outdated to others, especially with its seemingly throwback-inspired visuals. However, it's still a thoroughly enjoyable game that can delight gaming enthusiasts all over the world.
There are plenty of benefits to gaming, even as the world opens up again and recover from a crisis. Make sure you allow yourself the time to relax and play even amidst life's duties and responsibilities and give yourself time to breathe by immersing yourself in these incredible worlds. Good luck, and enjoy the world of gaming this summer!
Meta title: The Most Anticipated PC Games to Try This Year
meta desc: If you're looking for new games to help keep your blood pumping this summer, here are some of the most anticipated PC and laptop games this 2021.